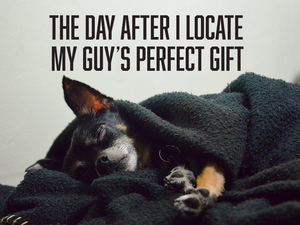 The Rules to Buying Gifts for Men - A Guide To Finding Presents for Men
Finding gifts for men can be a bit of a challenge. There is a lot of misinformation regarding the subject. The vast majority of men wear cufflinks once every twelfth of never and they don't see the different between a $500 pen and a BIC one.
Lucky for you, the men at Crave Detroit sat down to come up with a list of rules to follow when you are looking for gifts that your guy will love to unwrap this holiday season.
Rule # 1 Do Not Buy Him A Tool
Unless you have heard your guy say a specific brand followed by a the exact specs and serial number, "Craftsman 20 gallon oil free portable air compressor model number 009-166957-123" we would steer clear of tools. Chances are, if your man is into tools, he prefers a certain brand and knows EXACTLY what he wants and will buy it when he needs it. Instead of tools, get him a shirt that speaks to his love of fixing things.
Rule #2 Do Not Buy Him A Cookbook
The modern man does not need a cook book. He has the internet. All that book will be is a waste of space in his already crowded kitchen. Instead, find him a nice selection of hot sauces or real maple syrup.  
Rule #3 Do Not Make Him A Scrapbook
Facebook, Instagram, and his personal phone have replaced scrapbooks. We live in an era where men are perfectly OK taking pictures of some rocking dish they ordered while out to dinner. They do not need a book filled full of memories. They already have that. Instead, buy him another memory. For example, if he is into racing, tickets to the Indy 500 or an IMSA race would definitely make him smile.
Rule #4 Do Not Buy Him Anything Monogrammed
Most men know their name and the things that they own. They don't need their initials monogramed across their socks to know which ones are theirs. Instead of wasting money by customizing his stockings, buy him something for his man cave. Maybe a vintage sign or a screen printed poster.
Rule #5. No Cookware
Men are practical beings. If they need something they will go and buy it. If a man's cookware is garbage he will replace it the next day, no questions asked. Men do not wait for a holiday to ask for new pots and pans, they take care of it themselves.  Instead of buying him new cooking supplies, buy him a bottle of his favorite spirits and everything it takes to make his drink of choice. You can never go wrong with a bottle of whiskey, a highball glass and bitters.
Rule #6 Skip Past The Framed Couples Portrait
We get it, you're in love. But he does not think like you. He does not want a picture of the two of you while vacationing in Portland. What he wants is something that reminds him to crave you. Instead of a cute sentimental picture, take a few sexy dance classes, buy a naughty negligee and give him a night that he will remember vividly for the rest of his life. He already loves everything about you, show him a side of you that he didn't even know existed.
Rule #7 Men Do Not Wear Engraved Bracelets
Outside of a medical bracelet, most men do not wear bracelets. Some wear watches. Others wear rings. But few men wear bracelets. Instead of cutting off his circulation, get him a slim pop-up-wallet. This modern take on the wallet will make it super easy for him to grab the right card next time he is out making manly purchases.
Rule #8 Portable Stuff Will Be Given to the Thrift Store
Most products that are repackaged as "portable" are not worth owning. Case in point, that easy-to-transport portable table table tennis set he got from Aunt Tilly three years ago has not been used in three years. Don't waste his time getting him the cheap portable version. Get him the real thing or the ability to do the real thing. In the case of table tennis, a membership to a Ping Pong Club may kill a couple birds with one stone. He will get the exercise he craves while flexing his skills.
Rule #9 Mens Bath Bombs Are Bull Shite
It is true, men love pine scented bath products. What we don't love is taking a bath. We are logical creatures who don't want to sit in our own filth. Surveys have shown that 90% of men shower. So instead of asking him to wash his most loved region in baking soda and citric acid, turn him on to a natural, nurishing hand cut soap for men. A personal favorite is Dr. Squatch natural soap for men.
Rule #10 Keepsake Boxes Are Not Manly
When a guy goes on an adventure and brings back a souvenir, it does not belong in a box. Men show their trophies with pride. Instead of getting him a wooden keepsake box, get him a unique shelf to house all of his glory. This can be anything from an old motor oil display rack to a reclaimed wood floating shelf.
The Mobiloil display rack pictured above is from the 1930s. 
 
We hope that our list of gifts for men was helpful and sparked a few ideas. Happy shopping and remember, when in doubt of what to get him, anything from Crave Detroit is always the perfect gift. 
---