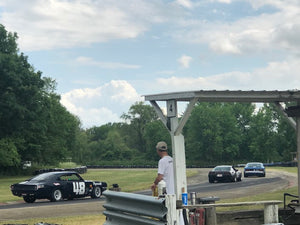 Vintage Racing at Blackhawk Farms Raceway
After a long winter of "social distancing" and months of cancelled events the Vintage Sports Car Drivers Association, VSCDA had its first race of the 2020 season at Blackhawk Farms Raceway. BFR is located in South Beloit, Illinois about 100 miles northwest of Chicago, Illinois, and 100 miles southwest of Milwaukee, Wisconsin.
The historic track is simply beautiful with many corners cutting through the woods. From the driver's perspective, the on-track experience feels a bit like you are racing through a park or campgrounds. The course is a little narrow, passing can be a challenge with a bigger car, and a few of the run-off areas are a bit close to the track…but altogether it is a wonderful race course. 
Officially, Blackhawk Farms has seven corners spanning over 1.95 miles. Unofficially, the track has 11 changes of direction and some of the best brats in Illinois.  
This was the second time that the icravecars.com C4 Corvette has been at Blackhawk Farms Raceway and the first time the car had been on track all season. The weather was a mixture of sunny and rain. Lucky for us, the rain fell before and after our Group E sprint race. Due to COVID-19 restrictions, all drivers and crew were required to wear masks when they weren't at their paddock spot. Everyone had to register electronically before the race weekend, and spectators weren't allowed. Additional precautions were taken by restricting viewing areas, including the elevated observation deck. The number of cars was also down significantly.
Despite the lower attendance and lack of crowd, everyone was extremely excited to finally be allowed to race. The event was Father's day weekend in the end of June, but it was most drivers' first time on track all season because of COVID cancellations. Drivers came from as far away as Texas, Nevada, Oregon, and California. In Group E, we raced against a 1967 Plymouth Barracuda, a 1984 Corvette, a 1992 Chevy Lumina, and a 1969 Ford Mustang GT. If this sounds like a small group, it was. Last year at Blackhawk we raced against three times that many drivers. Overall we were pleased with our performance. Our lap times consistently improved over the weekend and by the races, we were consistently averaging a 1:23 lap time. Brake issues led to us dropping out of the feature race on lap 4. Oh well, there is always next time. We plan to race at the Road America Ariens Art on Wheels Vintage Weekend in September. That event typically draws 300 drivers, so it should be an exciting race!

---